Monsters of the James Fishing Tournament
Saturday, May 21 at 7:00 am
This event will have you hooked!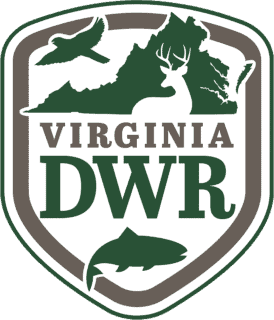 Spend this year's Dominion Energy Riverrock weekend casting and catching with the Department of Wildlife Resources at the Monsters of the James Fishing Tournament! Teams of one or two anglers can paddle up and down the Mighty James in this catch and release tournament. Get ready to school the competition!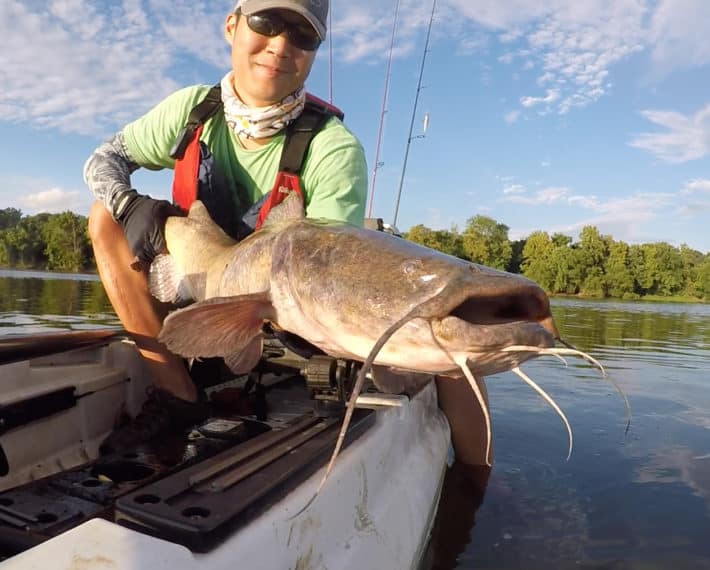 Cost & Registration
Through April 15:  $25
April 16 – May 18:  $30
May 19*: $35
*Registration will close at 11:00 AM
Teams, consisting of 1 or 2 people must pre-register by May 19 to be eligible to compete.
The event will be capped at 30 teams.
Includes: event shirt, post-tournament beer or soda, and a free concert.
Entries are non-refundable, non-transferable, and non-deferrable.
Tournament Day Check-in
All competitors must check-in on Saturday, May 21 between 5:15 and 6:30 a.m. at Ancarrow's Landing.
Additional information will be given out to competitors at check-in on the day of the event, including the final location and time of the awards ceremony.
A photo ID is required for adults to pick up your packet (not required for minors without IDs).
Competition Format
Competition will begin at approximately 7 a.m., following a release notification ("blast-off") from the tournament director. All kayaks must be in the proximity of the release location at this time. All competitors must be back at the launch area by 1 p.m.
This is a catch and release event and to be eligible for scoring, all fish must be released alive.
Scoring
Anglers should photograph any fish that they wish to enter on a measuring board (Hawg Trough or similar). The measuring board should be rigid and contain legible length markings. Measuring boards not meeting this criteria will not be allowed. The tournament director may inspect measuring equipment and allow or disallow based on their discretion.
All competitors will be given an index card at check-in that will contain a unique identifier linking them to the event. This card must be in all photographs of submitted fish.
At final check-in, anglers will need to provide photos to the tournament director, who will score each fish and calculate the total score at the weigh station. The total score will consist of the cumulative length of the team's three largest catfish. Species allowed are blue, flathead, channel, and white catfish, as well as yellow, brown, or black bullhead. Lengths will be rounded up to the nearest whole inch. A lunker will be designated for each team's catch based on their largest fish.
Ties will be broken in the following order:
Longest fish
Most fish
Coin flip.
In the event of a tie for lunker, the tie will be broken based on a coin flip.
Late competitors will be penalized 4" from their score for every minute they arrive late. In the event a competitor wishes to enter their fish prior to the end of the event at the weigh station, they may, however, the weigh station will not be open until 12 p.m. All competitors must check out at the weigh station prior to leaving, even if they do not enter any fish. This is to allow the organizers to verify that everyone has returned safe and sound.
Rules
All kayaks used for this portion of the event must be in seaworthy condition and contain all safety equipment required by law.
If a team enters the tournament, 2 kayaks are allowed to be used. Teammates must be within a safe distance of one another at all times.
Life jackets must be worn at all times.
Trolling motors are allowed to be used during the tournament, but they are not required.
All fishing must be done from in the kayak during the competition. You are allowed to exit your vessel to photograph a fish, but you cannot paddle out to a rock or the shoreline to fish.
All competitors will be given an index card at check-in that will contain a unique identifier linking them to the event. This card must be in all photographs of submitted fish.
Rods and Reels are the only type of gear allowed for the capture of catfish. There are no restrictions on the number of rods employed.
There are no restrictions on the type of baits allowed as long as all bait used complies with applicable law.
Awards
Awards will be given to the top three individuals/teams based on cumulative length of up to three fish.
There will also be a lunker award given to the individual/team who submitted the longest fish in the entire tournament.