We're fortunate to work with some of the best outdoor brands in the business. Get to know these brands and discover why you should visit their booths during the festival!
Dominion Energy
Dominion Energy has proudly served as Riverrock's title sponsor since the event's inception.
What we share in our commitment to celebrating and protecting our environment in Central Virginia and everywhere we do business, has translated to what is now an 13-year partnership for the nation's premier outdoor sports and music festival. We hope that you can join us for this ultimate outdoor experience!
Subaru
Subaru of America, Inc. markets and distributes Subaru vehicles, parts and accessories through a network of more than 630 retailers across the United States. We are guided by the Subaru Love Promise, which is our vision to show love and respect to everyone, and to support its communities and customers nationwide. Over the past 20 years, Subaru has donated more than $200 million to causes the Subaru family cares about, and our employees have logged more than 63,000 volunteer hours. As a company, we believe it is important to do our part in making a positive impact in the world because it is the right thing to do. At Subaru, we are More Than a Car Company®.
Subaru is committed to helping all animals — including those in shelters — stay safe and healthy. A core principle of our Subaru Loves Pets initiative is an ongoing commitment to help all pets find their perfect, loving home. We stand by this commitment through a scale of actions; from supporting local pet-adoption efforts to being the ASPCA®'s largest corporate donor. Subaru and our retailers are proud to have donated over $42 million to national and local organizations, which has allowed us to help in the adoption, rescue, transport, and health care of nearly 350,000 animals and pets.
CoStar Group
Collaboration and Enthusiasm
CoStar Group is a leading provider of online real estate marketplaces, information and analytics, specializing in multifamily and single family residential, office, industrial, retail, hospitality and land property sectors. We are digitizing the world's real estate, empowering all people to discover properties, insights, and connections that improve their businesses and lives.
We do this by bringing technology and people together. In fact, we are growing our footprint in Richmond, VA and are building a new corporate campus that will bring together over 3000 employees to collaborate and work on cutting-edge technologies and research in support of the real estate industry. By growing our global research operations in the city of Richmond, we will become a place that inspires excellence by bringing together ideas that deliver results and offering careers that have impact.
At CoStar Group, there are lots of doors to open. We invest in our employees, and we provide a collaborative environment where ideas can be shared, and innovation can grow. Most importantly, you can power your career forward within the vibrant Richmond community.
Riverrock represents all the amazing things Richmond has to offer – and CoStar Group sits right at the center of the action. Come see why we are a great place to work and live the RVA life.
Regin Storm
REIGN Storm is a ZERO SUGAR, low calorie energy drink designed to give those with active lifestyles a guilt-free "better me" energy surge. Offered in a 12oz slim line can, REIGN Storm is packed with a plant-based energy blend that helps accelerate metabolism while providing immunity support through Vitamins A, C and Zinc. It is available in four amazing fruit forward flavors: Valencia Orange, Kiwi Blend, Peach Nectarine, and Harvest Grape. REIGN Storm is designed for those who like to lead an active and adventurous lifestyle… individuals seeking wellness not only inside the gym — but outside as well.
Each 12oz can of REIGN Storm contains:
200mg of plant-based caffeine packed with B vitamins
Zinc, Vitamin A and C to support immunity
Biotin help support skin and hair health
NO sugar
NO added preservatives sodium benzoate or potassium sorbate
NO artificial flavors
NO artificially sourced colors
NO high fructose corn syrup
… and NO BS claims!
Hardywood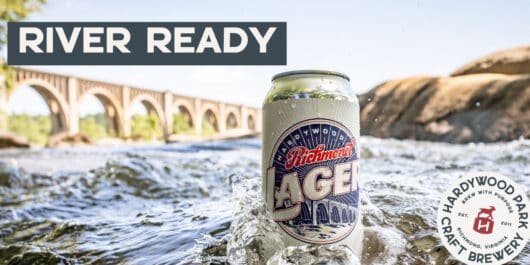 Brew with Purpose
Hardywood's mission is to be the most respected craft brewer by relentlessly committing to quality and innovation, delighting our customers, creating an exceptional workplace experience, respecting our environment, and supporting our community. Riverrock is such a quintessential Richmond event and we love being able to participate in something that is so deeply rooted in our community.
Our Great Return American IPA directly supports the James River Association (JRA) because we believe that we all benefit from cleaner, better water. We are proud to be a part of of JRA's work to improve our main source of drinking water and to sponsor events that highlight Richmond's amazing riverfront and outdoor scene.
Stop by to see us at Dominion Energy Riverrock! Our staff is a passionate group of folks who love to chat all things beer. They are knowledgeable, funny, and smart. Plus, we've got great swag.
Thule
This is Thule
Whether it's exploring the spectacular nature of the great outdoors or traveling the world with family and friends, we all have a passion for enjoying an active life.
At Thule, we share your desire to spend more time enjoying our passions – which means less time worrying about how to bring all the stuff we need. For more than 75 years, Thule has been creating solutions to simplify life's adventures. We are committed to developing smart, stylish products that are environmentally sound, high quality, safe, and easy to use. All so you can bring the things you care most about.
Whatever your passion, whatever your pursuit. Wherever you're going, whatever you're bringing. With Thule, you're free to live your active life to the full.
Bring your board
Bring your bike
Bring your skis
Bring your gear
Bring your kids
Bring your love
Bring your dreams
Bring your passion
Bring your life.
Mamitas
Mamitas is a Mucho Delicious ready-to-drink hard seltzer made with real tequila and natural flavors. Mamitas keeps a light and refreshing taste while staying authentic to iconic tequila cocktails that have inspired bartenders for decades. This tequila seltzer was made to be enjoyed outdoors while doing what you love the most. Mamitas has four classic flavors – Paloma, Lime, Mango & Pineapple. Two brand new flavors also recently hit the market – Spicy Marg & Tequila Sunrise, a play off the popular cocktails in seltzer form.
Learn more about your new drink for the summer at drinkmamitas.com – and kick it with us on social media: Instagram, Twitter and TikTok.
Virginia Department of Health
Protecting Health and Promoting Well-being
For 3 years, you've heard a lot about the VDH pandemic response, but VDH is more than COVID. Virginia's public health history dates back more than 400 years when, in 1610, the first sanitation law was passed in the Jamestown colony.  And, since 1908, VDH has been striving to ensure the health and well-being of all Virginia communities.  From Appalachia to the Atlantic shore, our dedicated staff are committed to the vision of making Virginia the healthiest state in the nation.  With programs ranging from newborn screening to autopsies, from emergency medical services planning to licensing of hospitals, nursing homes and restaurants, and from radiological health to disease prevention and health promotion – VDH is working for you!
Check out the VDH website for specific programs and local health departments in your area, as well as www.iampublichealthva.org for some VDH highlights. For more information, follow us on Facebook, Twitter, LinkedIn and Instagram, and check out VDH on YouTube.
Patient First
Patient First was founded in Richmond in 1981 and has been providing convenient, cost-effective medical care ever since. Patient First provides urgent care for routine illnesses and injuries, as well as primary care for patients who don't have a regular physician.  All Patient First medical centers are open from 8 am to 8 pm, 365 days a year, and see patients on a walk-in, non-appointment basis.  Each locations has on-site lab testing, x-rays, and prescription drugs.  This means patients can often be seen, diagnosed, and treated in a single visit.
Please visit our website to learn more about our services, to find a nearby location, and to find physician schedules.  You can also visit our community page to learn about some of the great organizations that Patient First supports. If you would like to connect with us on social media please visit our Facebook, Instagram and LinkedIn pages.
BrightSuite

BrightSuite is a proud sponsor of Riverrock!
Backed by Dominion Energy, BrightSuite provides sustainable energy solutions for homes and businesses to fit their unique lifestyles and help them achieve their sustainability goals with innovative technology and services.
We offer a range of energy solutions that integrate seamlessly — including residential and commercial solar, smart home/security products and electric vehicle (EV) charging.
BrightSuite is committed to creating a cleaner, brighter environment for our families and communities.
During the River Rock Event, stop by our booth to learn about our Solar and EV charging!
Teton Gravity Research
Teton Gravity Research is a world leading brand in the outdoor action, adventure, and exploration space; both in active participation and in lifestyle. The brand represents, and is synonymous with a quality product. One that is edgy, authentic, entertaining, and impactful. Our product is our content, our merchandise, our physical properties and our tour events. At each interaction point TGR creates a sophisticated web of brand experiences that drive awareness, engagement, affinity, and most importantly, loyalty. TGR believers and followers have an expectation for quality, stunning visuals, meaningful stories, impactful and fun experiences,
and quality products.
TGR has always been drawn to fun and adventure, and what better place to be than at Dominion Energy Riverrock! Stop by the Stokemobile to catch some of our epic adrenaline-fueled content, check out our latest and greatest apparel and swag. Whether it is on the slopes, the trails, the rocks, or the water. TGR is here to capture it all and showcase just how epic adventure can truly be!
Blue Ridge Cyclery
Your Friendly Local Bike Shop
Blue Ridge Cyclery exists to help people reach their cycling goals. Mountain, road, and everything in-between, we have the perfect bike for your journey. We also repair most every make and model to keep your trusty bike riding smoothly. Family owned and operated since 2010, Blue Ridge Cyclery was founded by a cyclist to help others discover how amazing the sport is. Though the company has now grown to 4 locations, nothing has changed about our passion for cycling.