Belle Isle Blitz
Friday, May 17 at 7:15 pm
Back Again! The Belle Isle Blitz is chip timed trail run.
A 5k-ish trail race with a similar course as the Filthy 5k-ish but no mud pit so you can spend your time focusing on the trails!  Sign up for the Dog Wave, a part of the Belle Isle Blitz, and bring your favorite canine through the trails, along the dry way, and across the river. There's no better way to spend a Friday night than with man's best friend!  Less actual mud not guaranteed.
Cost & Registration
Through March 31:  $33
April 1 – April 30:  $38
May 1 – May 15:  $43
May 16 – May 17:  $50
On Site:  $50
Includes: a cool event t-shirt, post-race beer or soda, and a free concert.
Entries are non-refundable, non-transferable, and non-deferrable.
Packet Pick Up, Walk Up Registration & Bag Check
Challenges
Want to add some extra intensity to your Dominion Energy Riverrock experience? Try out one of our challenges!
Trail Trio (Belle Isle Blitz + James River Scramble + Bust the Banks Half Marathon)
Course
The Belle Isle Blitz will start on the south side of the river, just over the T. Tyler Potterfield Memorial Bridge, and finish in the Belle Isle parking lot.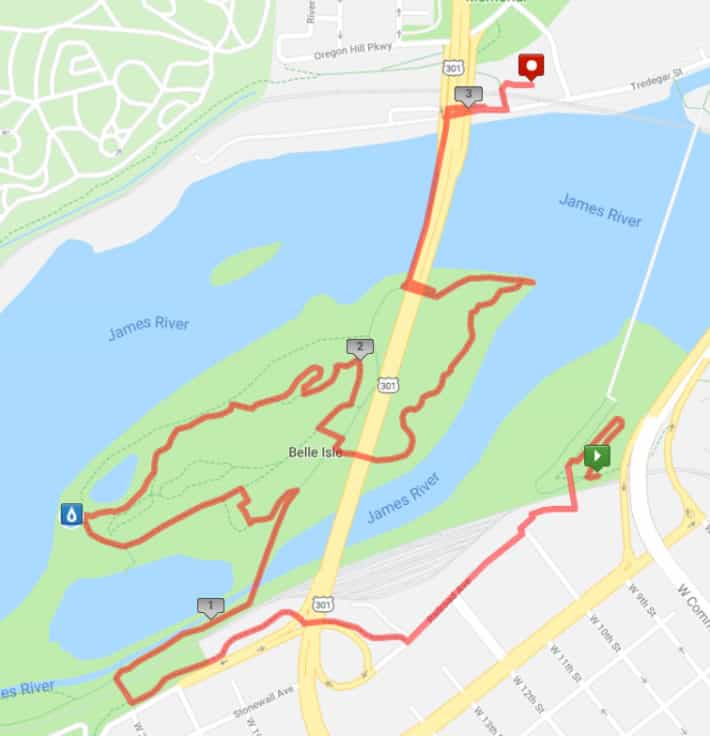 Note about Course Map: As is the nature of trail races, it can be difficult to create a map that accurately reflects the true distance of the course.  Please keep in mind that this map is intended to give you a better understanding of the course and that the race route is approximately a 5k.
*Course is subject to change.
Rules
All participants must be at least 7 years old to participate.  We ask that all children under the age of 14 be accompanied by an adult.
Consumption of alcohol before the event is PROHIBITED
Dog Wave Unique Rules
Only one dog per human participant
All dogs must be leashed
Leashes cannot be retractable
Leashes cannot exceed 8 feet in length
Waves
The Belle Isle Blitz utilizes wave starts in order to control volume on the trails, so you will be asked to line up for the start based on your predicted pace.
The Dog Wave will be the final wave of the race.