River Rumble: Run, Paddle, Bike
Saturday, May 18 (all day)
Run, Paddle, Bike: Three Events, One Day, Fastest Time Wins!
Do you think you have what it takes to run, paddle, and bike all in one day? Prove it by competing in the River Rumble, where you will be challenged to take on the James River Scramble, the Sierra Nevada Down River Paddle, and the 20-mile Urban Assault course! One male and one female will earn bragging rights as our River Rumble Champion! Plus get $5 off your total price when you register for the River Rumble!
Cost & Registsration
Through March 31:  $95
April 1 – April 30:  $107
May 1 – May 15:  $120
May 16 – May 18:  $140
On Site: $140
Includes: a cool event t-shirt, post-race beer or soda, and a free concert.
Entries are non-refundable, non-transferable, and non-deferrable.
Packet Pick Up, Walk Up Registration & Bag Check
General Rules
All participants must be at least 14 years old to participate.
Consumption of alcohol before the event is PROHIBITED
James River Scramble
Brand new Start and Course, including way more trail and less pavement!  This year, the James River Scramble will start on the south side of the river, just over the T. Tyler Potterfield Memorial Bridge.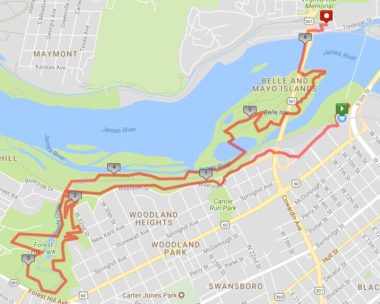 Note about Course Map: As is the nature of trail races, it can be difficult to create a map that accurately reflects the true distance of the course.  Please keep in mind that this map is intended to give you a better understanding of the course and that the race route is approximately a 10k.
*Course is subject to change.
Sierra Nevada Down River Paddle
Course:
Participants will start at Reedy Creek and race downriver to the finish at the 14th Street takeout. You will be sent off individually every minute and the fastest time will win!  Pick your boat, kayak, canoe, or SUP.
Rules:
All competitors must wear life vests and helmets.  When things get rowdy, you'll be glad you did!
Urban Assault
Categories & Schedules:
Pro/Expert Men – Senior (19-29) – 20 miles @ 1:30 p.m.*
Pro/Expert Men – Master (30-39) – 20 miles @ 1:30 p.m.*
Pro/Expert Men – Master (40+) – 20 miles @ 1:30 p.m.*
Pro/Expert Women – Open (12-99) – 20 miles @ 1:32 p.m.*
Single Speed Open (12-99) – 20 miles @ 1:34 p.m.*
Sport Men – Senior (19-29) – 20 miles @ 1:36 p.m.*
Sport Men – Master (30-39) – 20 miles @ 1:38 p.m.*
Sport Men – Master (40+) – 20 miles @ 1:40 p.m.*
Junior Expert (12-18) – 20 miles @ 1:42 p.m.*
Course:
PLEASE NOTE: The Urban Assault course will be marked in the customary BLUE arrows.
AGAIN this year, we will be following the course in the opposite direction than we have in the past.  We have followed the James River Park trails counter-clockwise, but this year the race will go in the other direction. The course will continue to start and finish in the Belle Isle parking lot adjacent to Tredegar Street. Racers then will ride up the gravel road and take a hard right up to the Lee Bridge. Cross the bridge, veer right and follow the course parallel to Riverside Drive and onto the Buttermilk Trail. Continue west on Buttermilk to Reedy Creek.
Head down through the far left "chunnel" or culvert, up the rocks and then make a clockwise lap of Forest Hill Park. Cross the concrete bridge before heading back through the culvert. Continue west on Buttermilk and descend carefully down the rocks below the Boulevard Bridge. Cross the Boulevard Bridge and turn left to access the North Bank Trail. Follow North Bank up the wooden ramp and the Stairway to Heaven climb.
Head east on Kansas and take a right on Texas Avenue. Follow the North Bank Trail back to the finish at the Belle Isle parking lot. (If you are doing the 20-mile course, you will head left and back up to the Lee Bridge and do another lap.)
To get an idea of what the course is like, click here. (This is 2016's course, you will be going the opposite direction in 2018)
Rules:

Mountain bikes ONLY
All riders must wear a helmet
Please be aware that the trails used for this event are shared multi-use trails. Please take the time to familiarize yourself with the IMBA Rules of the Trail.
Any weather related decisions will be made as soon as possible.  We want the event to happen but will always put the safety of our participants first along with our responsibility to prevent deterioration of our awesome trail system.