Guided River Trips with the James River Association
Saturday, May 15 (times below)
Connect with the James River!
This 2 hour guided excursion will explore the James River National Refuge by canoe and will be led by two JRA Environmental Educators. The paddle is a flat water section of the James that has many tidal wetlands. Birds, turtles, and wetlands plants are the main attractions.
Event Details
There are two excursion times:
9 AM – 10:30 AM
11 AM – 12:30 PM
Please bring closed toe shoes, a water bottle, and sunscreen. The James River Association will provide a life jacket, paddle vessel, and instructional review from one of our guides.
Participants must sign the online waiver prior to the trip day. Please bring your ID with you.
About the James River Association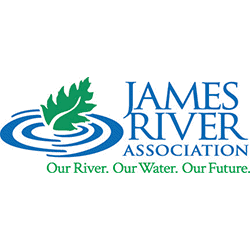 The James River Association serves to be a guardian of the James River. Working to promote conservation and responsible stewardship of its natural resources, the association helps protect the river through various projects and connect the community through their Environmental Education and Community Conservation programs.