Filthy 5k-ish Mud Run
Friday, May 17 at 6:00 pm
The Filthy 5k-ish Mud Run kicks off Dominion Energy Riverrock with some down and dirty fun.
It's not just a trail run with rugged terrain – as if the roots, rocks, and uneven ground aren't tough enough! Be prepared to trudge through the James River, rock hop across the dry way, and climb, crawl, and leap over other natural obstacles along the course. There may be an ice cold beer awaiting you (if you're 21, of course), but first you have to crawl through a massive mud pit at the finish line! As if the Filthy 5K-ish was not enough fun, you can get your dog into the mud too! Sign up for the Dog Wave, a part of the Filthy 5K-ish, and bring your favorite canine through the trails, along the dry way, across the river, and into the mud pit. There's no better way to spend a Friday night than with man's best friend!
Cost & Registration
Through March 31:  $30
April 1 – April 30:  $35
May 1 – May 15:  $40
May 16 – May 17:  $45
On Site:  $45
Includes: a cool event t-shirt, post-race beer or soda, and a free concert.
Entries are non-refundable, non-transferable, and non-deferrable.
Packet Pick Up, Walk Up Registration & Bag Check
Course
Enjoy more dirt and less pavement!  The Filthy 5k-ish Mud Run will start on the south side of the river, just over the T. Tyler Potterfield Memorial Bridge, and end on Brown's Island with a crawl through the mud pit.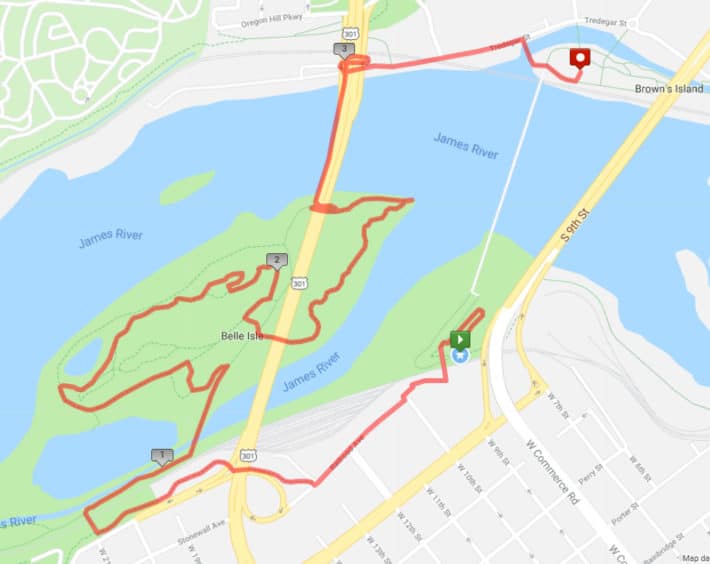 Note about Course Map: As is the nature of trail races, it can be difficult to create a map that accurately reflects the true distance of the course.  Please keep in mind that this map is intended to give you a better understanding of the course and that the race route is approximately a 5k.
*Course is subject to change.
Rules
All participants must be at least 7 years old to participate. We ask that all children under the age of 14 be accompanied by an adult.
Participants in the Dog Wave must be at least 16 years old to run with a dog.
Consumption of alcohol before the event is PROHIBITED
Do NOT dive head first into the mud pit
Tips & Safety
Wear your grungy clothes and old sneakers, because more than likely they won't be going home with you
There will be a rinse off area for participants
Bring a big trash bag, dry clothes, and a towel
Leave your jewelry at home
Drink fluids before, during, and after your race
Do NOT dive head first into the mud pit
This is a fun run so help your neighbor if he or she needs help
There will be medical staff along the course and at the finish line
We are not responsible for your personal gear
Consumption of alcohol before the event is PROHIBITED
Dog Wave Unique Rules
Only one dog per human participant
All dogs must be leashed
Leashes cannot be retractable
Leashes cannot exceed 8 feet in length
Waves
The Filthy 5k-ish Mud Run utilizes wave starts in order to control volume on the trails, so you will be asked to line up for the start based on your predicted pace.
The Dog Wave will be the final wave of the race.