"Dandelion Wishes" with Art on Wheels
Saturday, May 15 at 10:00 am
Sunday, May 16 at 10:00 am
Dandelion Wishes will enliven a small field adjacent to Rocketts Landing with a whimsical, kinetic art installation that engages participants to create dandelion seeds using recycled bicycle tires.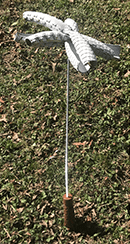 Referencing the Virginia Capital Trail, which runs along the site and the outdoor sporting focus of Dominion Energy Riverrock, the dandelion seeds are easy to assemble from preprinted sections of used tires. Participants are invited to write a wish on the dandelion seed, and plant it in the field to help breathe new life into our hopes and aspirations as a community.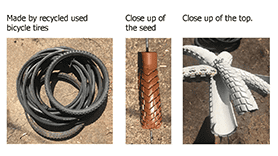 About Art on Wheels
Art on Wheels brings comprehensive arts programming to communities with limited access to the arts.
Art on Wheels makes a significant impact in our communities by providing an empowering, creative learning environment in which participant artists learn constructive ways to cope with the variety of challenges they may be facing, both big and small. Our programs enhance participant's lives by providing fun and challenging arts opportunities, with end results that offer deeper insight into individual lives and greater, more nuanced advocacy for the communities we serve.