"Dandelion Wishes" with Orlosky Studio
Saturday, May 15 at 10:00 am
Sunday, May 16 at 10:00 am
Dandelion Wishes will enliven a small field adjacent to Rocketts Landing with a whimsical, kinetic art installation that engages participants to create dandelion seeds using recycled bicycle tires.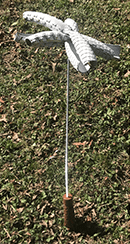 Update! Now at Brown's Island!
Referencing the Virginia Capital Trail, which runs along the site and the outdoor sporting focus of Dominion Energy Riverrock, the dandelion seeds are easy to assemble from preprinted sections of used tires. Participants are invited to write a wish on the dandelion seed, and plant it in the field to help breathe new life into our hopes and aspirations as a community.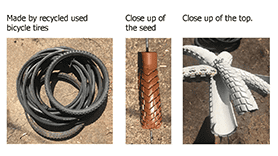 About Orlosky Studio
Formally trained at the Savannah College of Art and Design, Kevin and Andrea Orlosky, the creative force behind Orlosky Studio, graduated with high honors, both earning Bachelors of Fine Arts degrees in 2004. In 2007 they co-founded Art on Wheels, now a premiere arts nonprofit in Central Virginia, which they grew to dozens of program locations and numerous community-focused special events each year, reaching thousands of people annually.