Accessible Adventure: Featuring a Beyond Boundaries Film
Wednesday, May 18 at 5:30 pm
Kick off the action-packed weekend with an adventure film, panel discussion, and YETI and ENO raffle!
Join us for a free showing of Adventure is for Everyone at Hardywood, one of Richmond's premier craft breweries, and help us kick off the action-packed weekend of Dominion Energy Riverrock! The adventure film brought to us by Beyond Boundaries will give you a behind-the-scenes look at three individuals with disabilities, their pursuit of adventure, and the work that Beyond Boundaries is doing to help them discover and satisfy their adventurous spirits.
From biking to hiking, paddling to climbing, and fishing to boating, Richmond has so many adventure opportunities and Beyond Boundaries exists to help everyone have access to these adventures. Nature doesn't tend to naturally be accessible, so it's up to the community to make it so. Sometimes it takes adaptive equipment or infrastructure, and sometimes it's adapting your mindset and looking at the situation from another point of view. This year's film will be followed by a panel discussion, featuring three outdoor enthusiasts known for championing accessible adventure, both in their personal-endeavors and careers. Together, the film and panelists will provide perspective, helping us put our minds and hearts together so we can help to make sure that Adventure Is For Everyone!
Admission is FREE. Beer and pizza will be available for purchase.
Location
Hardywood Richmond – Barrel Room
2410 Ownby Ln
Richmond, VA 23220
Schedule
5:30pm – Doors Open
5:45pm – Welcome
5:55pm – Showing Begins
6:45pm – Panel Begins
7:30pm – Event Wraps
Meet the Panelists
Shep Roeper
Director/Co-Founder of Beyond Boundaries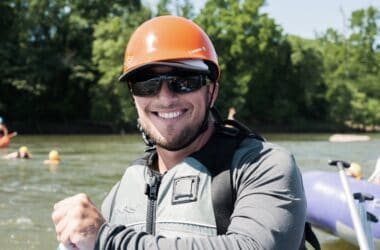 Shep Roeper is a Radford University graduate with a degree in Recreation, Parks, and Tourism. He is an outdoor enthusiast and loves introducing people to all of the great things that Richmond has to offer. He co-founded Beyond Boundaries in 2015 with friend Kyle Burnette and has enjoyed providing opportunities to the community ever since.
Josh Sloan
Volunteer & Outreach Coordinator at Sportable & Outdoor Adventure Adaptive Athlete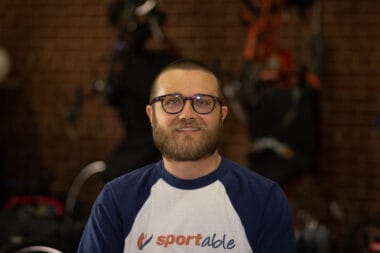 Josh works with community partners, corporate and business groups, and schools advocating for disability awareness and adaptive sports all over central Virginia. He speaks on and advocates for topics such as the power of adaptive sports, disability etiquette, accessible design, and diversity and inclusion in the workplace.
As an adaptive athlete, Josh is able to speak firsthand to the impact of adaptive sports on the lives of individuals with disabilities. Josh has been an athlete with Sportable since April of 2014. The access Sportable provides him to competitive sport, outdoor activities, and active exercise is central to why he finds his life so fulfilling. He is able to cycle, kayak, row, and play rugby on a regular basis throughout the year thanks to the Sportable community.
Given his passion for what Sportable does, his role as the Volunteer and Outreach Coordinator is a perfect fit. He gets to share the Sportable Story with the central Virginia community. By sharing the stories of adaptive athletes and advocating for people with disabilities, he raises awareness and gets new people involved with Sportable.
Sally Wetzler
River Advocate, Outdoor Enthusiast, Community Volunteer & JROC Board Member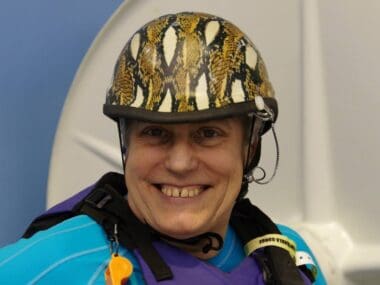 Sally has been whitewater kayaking since 1995, whenever and wherever she can. The James is her home river but she has paddled all over Virginia and mid/southern Atlantic states as well as in Canada and Mexico. Other paddling trips have taken her to Idaho and Utah multiple times. Before Sally began kayaking, she completed in wheelchair tennis at a national level. Wheelchair tennis had a huge influence in her moving to Richmond 35 years ago.
Sally has been involved with the James River Outdoor Coalition (JROC) for over twenty-five years and on the Board of Directors and Treasurer for most of that time.  The James River Park System (JRPS) is an awesome asset for connecting people to the river and natural areas.  To maximize those traits, she's worked to make the park a more accessible place.
Before Sally retired, she worked for the company that is now Dominion Energy. There Sally was able to champion a Dominion volunteer project which partnered with JROC to put in an accessible ramp at Reedy Creek.
The next project was a ramp at Huguenot Flatwater. JROC first partnered with the JRPS staff and jointly funded the pre-construction engineering and plan development and kicked off a large fundraising drive.  Mayor Stoney and Chris Frelke, Director of Parks, Recreation and Community Facilities, fully endorsed the project and included funding in the budget.  Construction is being completed and hopefully by the time of the panel discussion will be done!
About Beyond Boundaries

Beyond Boundaries is a Richmond based nonprofit specializing in guiding participants with disabilities, veterans, and at risk youth on outdoor adventures. Their mission is to offer individuals of all ability levels, no matter physical, cognitive, or economic situation, the opportunity to experience outdoor activities with the surrounding community.
About Accessible Adventure
Dominion Energy Riverrock is thrilled to debut Accessible Adventure, our newest component of the festival, aimed at discovering and learning from the people and organizations that place value on improving access to adventure through diversity, equity, and inclusion. Our goal with Dominion Energy Riverrock has always been to shine a spotlight on the wonderful outdoor amenities that we have in Richmond, Virginia and to encourage people to take advantage of those amenities through active living. However, we know barriers exist and we seek to understand those barriers so that we can work to make everyone feel welcome in the outdoors.