BIG FISH:
The Ultimate Festival Experience!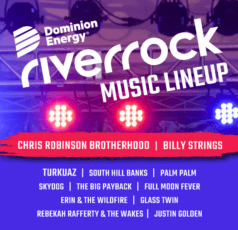 Picture yourself at Dominion Energy Riverrock. Now picture yourself at Dominion Energy Riverrock ALL WEEKEND LONG enjoying up-close exclusive views of the concerts & competitions, meals and drinks, a private bathroom area, reserved parking, and an exclusive swag bag. Seems too good to be true right? It's not…this year we're excited to offer the Big Fish package, the ULTIMATE FESTIVAL EXPERIENCE!
Experience everything you already love about Dominion Energy Riverrock, but take it up a notch! We're always pushing the adrenaline, so now being a spectator is an extreme sport too! Tickets are limited so book your spot today!
Cost
Adults: $200
Kids 6-14: $75*
Kids 5 & Under: Free**
Purchase
Buy your Big Fish package here
Includes
Access to exclusive Big Fish viewing areas:

Brown's Island –  Stage viewing for main acts
Tredegar – Competition viewing areas

Beer / Wine (4 on Friday, 6 on Saturday, 4 on Sunday) must be redeemed at the Big Fish Areas cannot be redeemed at the beer truck
Free Parking All Weekend Long
 Meals

Dinner Friday 6-8 p.m.
Lunch Saturday 11:30 a.m. – 1:30 p.m.
Dinner Saturday 6-8 p.m.
Lunch Sunday 11:30 a.m. – 1:30 p.m.

Private Bathrooms in Big Fish areas
Swag Bag
Exclusive Big Fish lanyard and wristband
*Kids Package does not include a parking pass or alcoholic drink tickets.  Any attendee under the age of 21 will not receive alcoholic drink tickets.
**5 & Under may accompany a paid adult to the exclusive areas, but will not receive any other package benefits.
Music Schedule
FAQs
Can I purchase a 1 day Big Fish ticket?
No, it's more fun to come all weekend long. The Big Fish package is only sold for the entire weekend.
How many meals are included?
We will provide dinner on Friday, lunch on Saturday, dinner on Saturday, and lunch on Sunday (times listed above).
Are alcoholic drinks really included?
Yes, they are! Your choice of beer or wine will be provided in the Big Fish hospitality areas. Each person over 21 will receive 4 drinks on Friday, 6 on Saturday and 4 on Sunday. If you are under 21, you'll receive your choice of non-alcoholic drinks.
How do I pick up my Big Fish packet?
Big Fish packets may be picked up at the Venture Richmond Offices on Tuesday, May 14 – Thursday, May 16.  Beginning on Friday, May 17, packets will be available on site at the Big Fish tent in Historic Tredegar.